In our search for discover good food, we're starting a new series aimed at learning more about passionate foodies, chefs, and global gourmands. For our inaugural interview, we sit down with Chef Lisa Schroeder from the famed Mother's Bistro in Portland.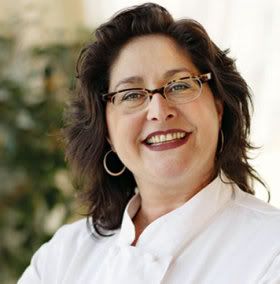 You started out in NYC and traveled around quite a bit. Why settle in Portland?
I always knew I'd open my restaurant, Mother's Bistro & Bar, in a city other than New York, I just didn't know which one. When I met my significant other, Rob it became clear...Portland was the perfect city for Mother's and me. It's a city that appreciates quality and value, and that's what I wanted to deliver at my restaurant(s).
What are some of the things you learned when starting up your restaurants?
How to live on very little sleep

One must hire the most seasoned people possible. You cannot train people how to work as a server or a cook while trying to open the restaurant they're working in.

Build slowly; Rome wasn't built in a day, and neither should a restaurant. Grow the restaurant as your business grows.
Can you tell us a bit more about Portland's dining scene? Has your cooking evolved to match the local taste?
One of the biggest revelations was the notion of terroir, right here, in America. I had never experienced such unanimous support of locally grown berries, nuts, grapes (read: wine) as much as I have in Portland. Oregonians were locavores before it was fashionable and continue to be to this day. I make it a point of using local suppliers, farmers, meat and produce as much as possible. It not only makes good business sense...it's good for the environment and it's what any good mother would do. That's because it's usually the most economical and healthy way of feeding your family. And my guests are my family. I imagine you must have a ton of great recipes.
How did you decide on which recipes to include in your cookbook?
First of all, I absolutely had to include the most -requested recipes, thus making it easier to answer those requests in the future. (A little selfish time-saving device!). Second, I went with the most approachable and likely to actually get made dishes. I didn't want to create a coffee table book. "Mother's Best" is intended to teach and be used. A lot. There were over one hundred recipes that were written and tested but didn't make it into the book, due to space constraints. It wasn't easy to whittle them down, but it had to be done.
Do you have a favorite ingredient? Why?
I hate to admit it, but butter. Mo' butter, mo' better - that's my motto. It adds richness and flavor to a most anything, viscosity to a sauce, mouth feel to a dish or dessert. It is extremely versatile. It's also an ingredient about which one should be picky. I recently did a taste test and learned the amazing differences between butters and the significance of flavor to all the dishes it becomes a part of; especially toast!
As we understand it, your menus are seasonal – what is your process for deciding what to put on the menu?
There is a good portion of our menu that doesn't change. We have to have Pot Roast, Chicken and Dumplings and Macaroni and Cheese on our menu everyday. But we also have a section of our menu called the "Mother of the Month" (M.O.M.) where we highlight a different mother each month, offer some of her dishes and tell her story. We use this part of our menu (as well as a daily special menu) to be seasonal, featuring a mother from eastern Europe in the winter months and a Mediterranean mother in the summer months, for example.
How do your meals at home differ from what you serve at your restaurants?
I rarely cook at home and when I do it's either something simply roasted or grilled like a whole roast chicken, bone-in pork loin or steaks. If I'm really cooking at home, it's rarely for less than 20. My mantra is: cook for 6, cook for 20!
Where do you see yourself in 5 years?
On television, still working in my restaurants and teaching cooking at home to small groups.
Thanks Chef Lisa!