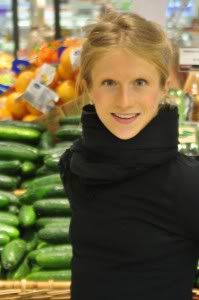 Amie Valpone has a lot on her plate - not only is she a recipe developer and a culinary marketing consultant, but she's also a nutritionist for the NBA Fit Program, and a feature writer on the NBA's website! Amie has a passion for what she calls 'Clean Eating' - a focus on natural, whole foods that are good for you - with a goal of helping people live a healthier lifestyle by helping them learn how to choose the best foods for them. In line with that goal, Amie is the Manhattan Gal behind the Healthy Apple and serves as a brand ambassador for healthy living companies like Rudi's Gluten Free Bread and Musselman's Applesauce. Discover a world of eating healthy in our feature with Amie below.
F: Was there one particular, defining moment that led you to choosing a career in the food genre?
A: Yes, I became ill with severe stomach problems and no one could figure out what was wrong with me. I went to every doctor imaginable and no one could help me. That's when I turned to food to heal myself.
F: What do you contribute your passion for Clean Eating?
A: Growing up in a wholesome, loving family where I learned to cook and bake at an early age with my grandparents and family. Learning to cook with wholesome, natural, pure and fresh ingredients!
F: We see you develop your own recipes. Is there an absolute favorite dish you've made that stands out above the rest?
A: Yes, my famous guacamole dishes are always the biggest hit at an event, holiday gathering or dinner party. I toss in grapefruit, edemame, leeks, cranberries and other unique ingredients. It's delish. (sounds amazingly delish to us!)
F: Can you tell us a little bit about your role as a Brand Ambassador? It must feel great to promote healthy living companies, as it is really important nowadays to promote healthy eating as a lifestyle.
A: It's amazing and I am so happy working with my favorite brands. I have so much fun with the people behind these brands; they are all incredible and so much fun. We have a great time working together and I truly enjoy every minute of it! Whether I'm helping work an event, expo, speak at a conference or partake in guerrilla marketing around town, I'm always so excited...the work is exhilarating to me...it's actually tons of fun and doesn't feel like 'work' which is how I know it's my true passion!
F: Are people starting to think more and more about eating healthy/healthier food? Why or why not?
A: Yes, I believe people have begun looking to food to heal their bodies and their minds feeling better with more fruits, veggies and wholesome foods such as whole grains and healthy fats. Our society is starting to realize how important food is to our health and well being. Our food supply is becoming incredibly processed and packaged and it's important for us to stick to the basics and eat healthy foods such as fruits n' veggies and lean proteins and of course balance it out with the healthy doses of dark chocolate!
F: What would be your best advice to people who currently have bad eating habits and want to start eating healthier food?
A: I'd start by saying try to add in something new every day or every week...don't think about cutting out foods and depriving yourself but rather add in a new fruit or veggie and try to enjoy and savor each bite. Try fresh strawberries with Greek yogurt, honey and ground flax seeds or how about steamed artichokes with pesto and balsamic vinegar? You can create your very own soft-serve ice cream by combining bananas, berries, orange juice and cashews in a food processor and make homemade dark chocolate covered strawberries for a special treat. How about a breakfast with steel cut oats, chia seeds, almond butter and cinnamon? Or a quinoa salad with arugula, dried cherries, avocado, slivered almonds and fresh cilantro?
See how easy it can be? So, what are you waiting for? Go ahead and dig in...it's clean, gluten-free and delish!