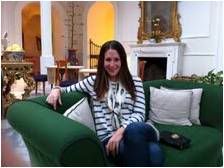 For today's featured foodie, we share with you the wonderful culinary adventures of a Windy City food blogger. Allison Hendrickson grew up in the mid-western state of Ohio, and then headed over to the Windy City in 2003, where she worked at an ad agency. After finding herself in an office all day, Allison decided that her true passion was in writing, and food! Yum :) Following her passion, she then created her blog, Ali Eats - documenting the fine food of the Midwest, among other things.
When did your love affair with food begin?
I am convinced my love affair with food was conceived in the womb because my mom still recites what she had for dinner the night I was born (tuna noodle casserole and chocolate pudding - both homemade, of course).
Growing up, my mom never made my dinner plate an exception. I ate what my parents did - from fresh pesto to kibbeh (lamb). I was an adventurous eater at a young age and developed a taste for clean, simple and fresh dishes.
When did your passion for writing begin?
I took an earnest interest in writing at sixteen when I realized writing came naturally to me. I wrote for my high school and college newspapers and transitioned this hobby into freelancing for a restaurant magazine called Dining Out Chicago when I moved here after college. I freelanced for three years and then stopped - the writing was 'cookie-cutter', and I no longer enjoyed it. I took some time off and started AliEats last Fall!
Why do you think Farmers Markets are important?
Farmers markets are vital to promoting a healthier food lifestyle. Buying local allows consumers to eat 'farm to table' - food is fresher and tastes better. More and more farmers are focusing on growing organic, too, which makes the local markets a healthier place to shop vs. most grocery chains (not everyone has access to Whole Foods or Fresh Market).
What are favorite herbs and spices? Why?
I love oregano, chives and mint the most - likely because they're so versatile in the foods I consistently eat. I adore oregano on pizza - I can never get enough. I use chives with eggs, in vinaigrettes, mixed with butter and oil and used to top a protein or added to finish a pasta. And mint is just as versatile - with lamb, in tea, in desserts.
Do you have a favorite type of cuisine? Why?
Probably the Mediterranean diet. I'm half Lebanese and mostly crave the foods that I grew up eating - tabbouleh, hummus, lamb with spices (kibbeh, kafta), feta cheese, olives, nuts. I love everything from a burger to foie gras, too, but you asked for a favorite:-)
What is your best advice to others that are looking to incorporate new foods into their current diet?
My advice would be to incorporate new items gradually and creatively. For instance, kale is a super-food but many find it too bitter. Try dressing it with olive oil, salt & pepper and then baking it (into chips). Delish!
(-; We hear you just got back from a culinary vacation in Italy. Can you tell us a little about that?
Spending two weeks in Italy will make anyone's perspective on life and food change a bit. Food is about pleasure - meals aren't rushed and ingredients are fresh and few. They eat well yet mindfully. Nothing is off limits, but they don't eat in excess.
My vice was a daily gelato - half a scoop of pistacchio and half a scoop of stracciatella. The BEST was at Giolitti in Rome. More favorites to come on AliEats!